I have found that I have problems with the thumb keys, particularly with the most recent Cy-Key(2) device. I think this is basically because much more is being demanded of the thumb, which needed for six combinations of the three keys. This is in comparison to the fingers which have only one key each.
I  have been avoiding the issue, and still am, by having a traditional keyboard operational next to the writer. This has also meant that I have learnt hardly any of the alternative codes.
My first attempt to improve on this was to arrange the thumb keys so that the thumb operates in six distinct directions.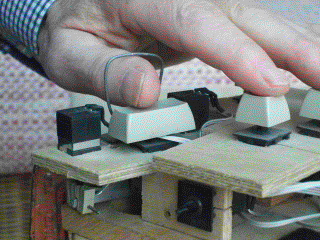 This layout of the thumb keys is a bit of an improvement and I have been used it for some time but the upwards movement was a bit troublesome. The loop of wire was a bit vulnerable and numbers-with-shift did not have a good feel.
I decided to try something a bit different and move the numbers key and lengthen it so that it can be pressed by either thumb or the first finger: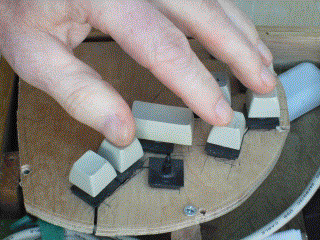 This removes the need for using the thumb to operate two keys at once except for cancel Caps Lock (Space/Caps).
This is better, but I still have a problem of pressing the wrong thumb key, so my next Keypad will have the Nums and Caps keys operate at right angles to the Space key.
This will mean that that the Nums key will have to be duplicated in order to be operated by the first finger as well as the thumb.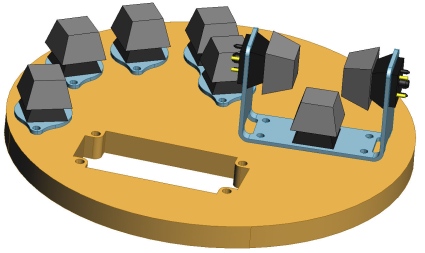 Further development has been concerned with making the keypad easier to make with the idea of including a Raspberry pi 0 W
And integrating a Keypad with a pointing device in a composite Writing Desk: